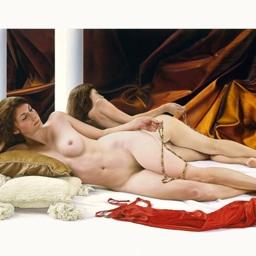 A Grander Odalisque
oil on canvas,
36" x 54" ©2006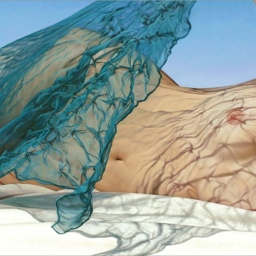 Flight Pattern
pastel on paper, 22" x30" ©2006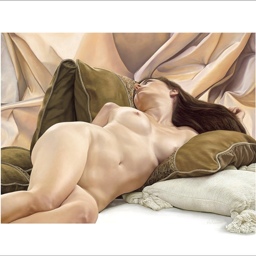 Opalesque
pastel (with gouache border) on paper,
32" x 40" ©2006
http://www.vistaunet.com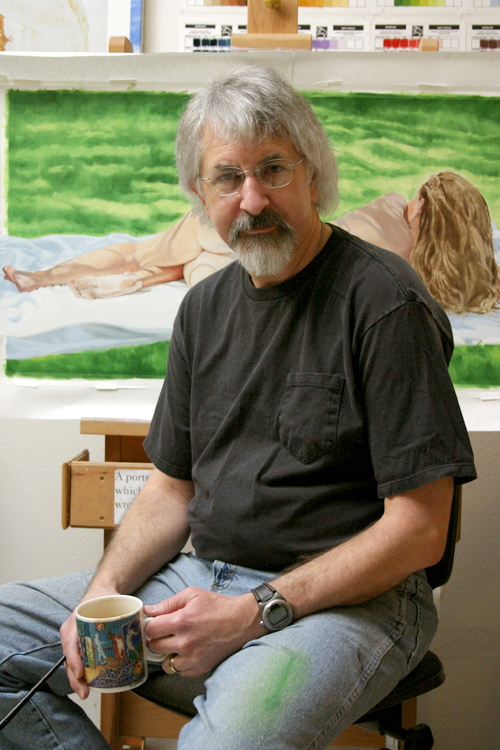 John Vistaunet
Primarily self taught, I've been painting off and on for 45 years or so, working at it full time for the past six years. Currently I live and work in Marysville, WA.
My work is as much about an interplay of the flat painting surface with the illusion of three dimensional space as it is about the sensual beauty of the female form. Background and foreground trade places to challenge the viewer's preconceptions of where space should begin and end. Pictorial composition encompasses both time and three apparent spatial dimensions, as the viewer's eye is allowed to follow its natural course through various planes of focus. The figures themselves are lifelike, sumptuous and beautiful, sometimes playful, at ease with themselves and at home in their space, happily oblivious to the artistic and compositional machinations at work around them. Nudes are presented straightforwardly, neither shocking nor coy. The apparent simplicity of some of the images belies subtle levels of complexity that linger on the visual palate. A convincing illusion is created of a world which invites the viewer to enter, spend some time, look around, discover things not seen at first glance. In this kind of visual journey, one discovers that art can be stimulating rather than pedantic, enriching rather than morbid, transporting rather than reporting.

awards
Artist of the Month, January 2007, The Artist's Magazine (online)
Finalist (3 paintings), 2006 The Artist's Magazine competition, Portrait & Figure Category
Second Prize, International Artist Magazine 2006 "Favorite Subject" competition
Award of Excellence, 2006 OPA National Exhibition
The Pastel Journal Grand Prize Award, 2005 Pastel 100 competition
Artist of the Month, July 2005, The Artist's Magazine (online)
Finalist, 2004 The Artist's Magazine competition, Portrait & Figure category
People's Choice Award, 2004 Anacortes Arts Festival
Honorable Mention, 2004 Anacortes Arts Festival
Best of Show, Equinox Arts Festival, Everett, WA