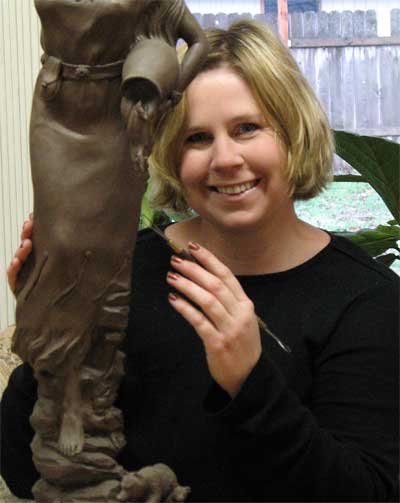 Heather Soderberg



Heather Soderberg has been sculpting since the age of 1 and selling professionally in galleries and art shows.  She has co-sculpted with her partner, John Soderberg, on many commissions for the Crystal Cathedral, hospitals, corporations and private clients.  Her passion is sculpting commissions to touch other's lives on a personal level.  She recently completed sculptures with John for the Free the Slaves Foundation and Camp Soaring Eagle.  The sculptures were given as awards to Desmond Tutu and Jane Seymour among others for their humanitarian work.

She is currently working on a 10-foot tall commission of Christ the Healer and has begun a larger than life-size monument of Christopher Reeve and his wife Dana to be placed at the Christopher and Dana Reeve Paralysis Resource Center.

"The artist is fundamentally alone in the creative process, whether he/she is supported and encouraged by other artists and lovers of art, or is solitary. The inner drama, the complex ebb and flow of feelings, hints and glimpses of images and ideas, the inner drive, urges, promptings and doubts -- the often fierce, undeniable, gut-deep need to create -- are those of individual artists alone, that they must somehow deal with through visions of the beauty and torment of the world.

 Artists are meant to probe heaven and hell, good and evil, beauty and ugliness -- the full dimension of life on earth, humanity's relations with itself, with nature, with God, and the universe, as their personal needs and interests dictate."



http://www.heathersoderberg.com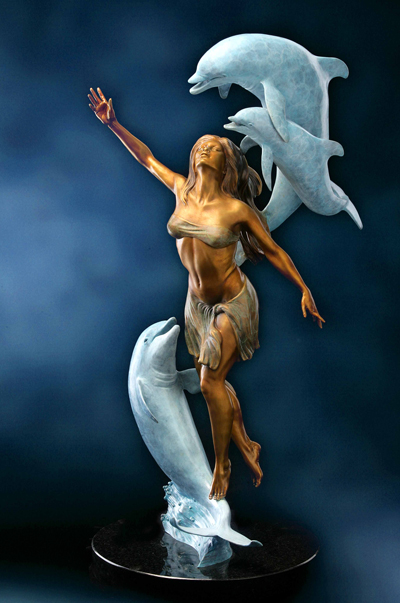 Sea Bond
Bronze
26" Tall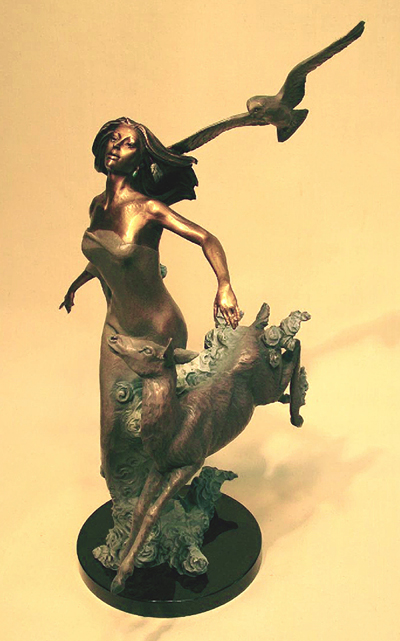 Wind Whispers
bronze
24" tall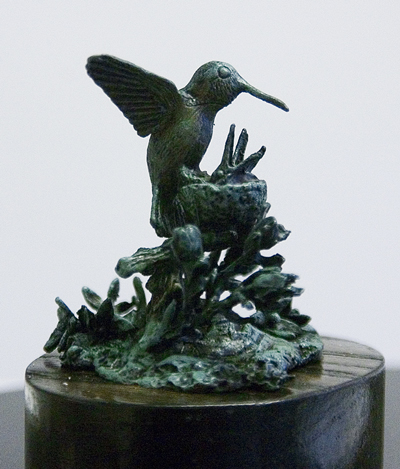 Hummingbird
bronze
3.5" tall

The Story of The Hummingbird Sculpture

"I started sculpting seriously since the age of 3. Back then we were so dirt poor and couldn't afford clay so my dad brought home recycled casting wax from the foundry to sculpt with. We also couldn't afford heat in our house so it was always very cold and the wax very hard. I could never get the wax to work with what I had in my mind. My sculptures were big blobs with far less detail than I imagined. My little fingers just couldn't work the wax. Finally, by the age of about 7 we were able to afford a nice big oil heater and I curled up next to it to sculpt. At the same time my dad gave me a custom sculpting tool he had made me. I loved hummingbirds so much and felt inspired to sculpt a little family of them. That sculpture was a major turning point in my striving to achieve detail. The warm wax and wonderful tool, which I still have, felt alive in my little fingers. I really worked hard to get all the little feathers just so, and the petals on the flowers curled just right. I had a lovely time sculpting it and as soon as it was cast I sold it at a gallery in Scottsdale.

Six months ago my mother was hired as a home nurse by the family of an elderly woman with cancer. My mother came into work to meet the lady and was introduced by her daughter. The old lady's eyes lit up after she heard my mother's last name. She asked her if she had a daughter named Heather. My mother said yes and the lady said she had something for her. She shuffled off and came back with a huge smile, holding my little hummingbird sculpture in her hand. She handed it to my mother and told her she wanted her to have it. My mother lovingly took care of her until she passed on."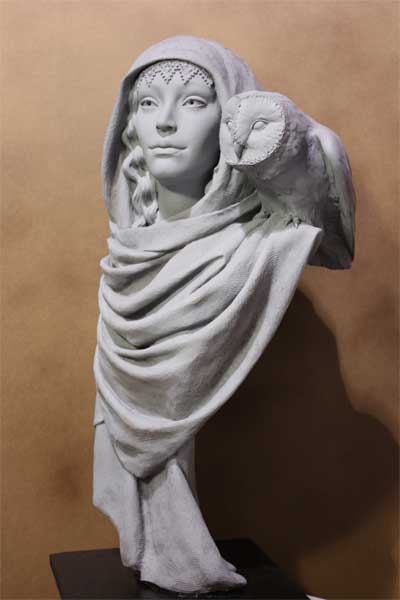 Athena Parthenos
bonded marble
Greek Goddess of Wisdom
Ed. 35
Bronze Ed. 35
28" Tall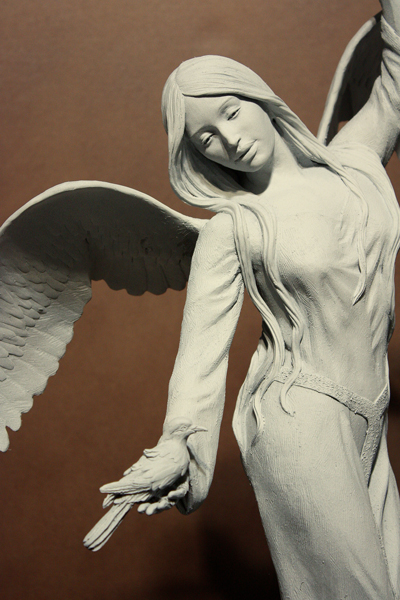 Peace
bonded marble
34" tall
Ed. 35
Bronze Ed. 35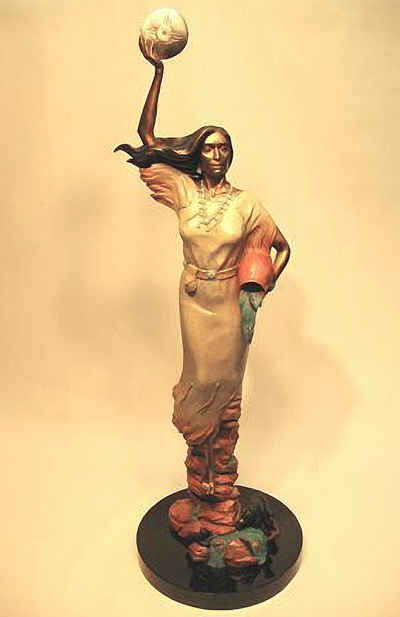 Great Cloud Woman
bronze
32" tall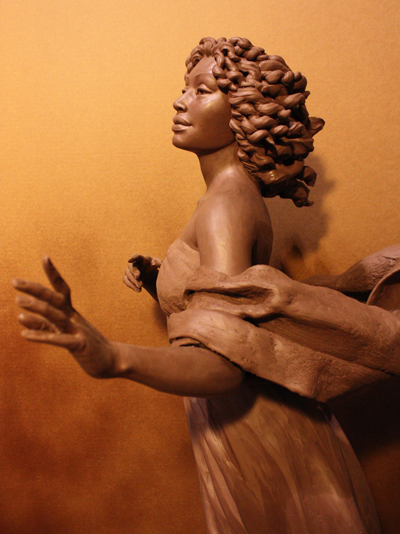 Oya Dances
(clay in progress)
Spirit of the Wind
48" Tall
bronze
bonded marble

Oya is the Spirit of the Wind in African mythology.  The word Oya is the name given to describe a complex convergence of spiritual forces that form the foundation of Oya's role in the Spirit Realm related to the movement between energy and form as it moves throughout the Universe.

The function of Oya is to provide those changing conditions that force consciousness to grow, expand and transcend its limitations.  The Wind is at the heart of Oya's power and makes Oya an essential part in those ceremonies which honor the memory of the Ancestors.  Oya is the guardian of the realm between life and death. She stands at the gate of the cemetery, to assist those when they make their final transition in this world,  She is the last breath that you take.

She is seen in aspects of warrior-goddess of wind, lightning, fertility, fire, and magic. She creates hurricanes, lightning and tornadoes, which are said to be her whirling skirts as she dances.  Oya is the goddess of change, transition, and the chaos that often brings it about.