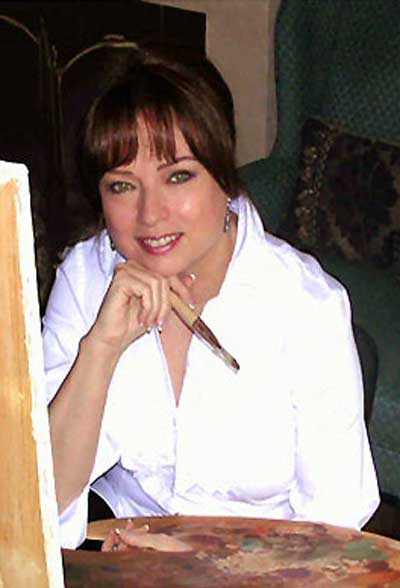 Jean-Marie Chapman


Jean-Marie Chapman is an award-winning Oregon artist who has had a passion for drawing people since childhood. She credits her mother, Ruth Louise Chapman, for instilling a love for art, beauty, color, and design. "My mother is my inspiration for all of my artistic endeavors. She taught me her special way of seeing the world, and is my soul-mate in my love for all of the arts."
While in her early twenties, Jean-Marie taught herself to paint portraits by copying Old Masters' works of art. Her first oil painting, derived from the famous self-portrait by the French artist, Eugene Delacroix, led her into the world of art, but only for a short time. "Life took me on a journey into a career in public relations where virtually no portraits were painted for 25 years. Then, following the death of my mother, I was introduced to portrait artist, Wanda Kemper, who became my mentor and friend. Under her guidance and instruction, I was able to return to my passion, refine my work and move forward into a professional career. And I've never looked back."

Love for the Old Masters has strongly influenced Jean-Marie's painting style. Artists she most reveres, and strives to emulate, are John Singer Sargent, J. W. Waterhouse, Rembrandt, and Vermeer. She also admires the romantic, classical work of Bouguereau. "I am drawn to the old-world approach to portraiture, and appreciate the realism and emotion of these marvelous works. My portraits are rendered with layers of paint and glaze to bring illumination to my subjects. While it is a pain-staking process, the results are well worth the effort, and I've found no other way to give the portrait depth and radiance."

Jean-Marie is also captivated by the Impressionist artists and is studying the techniques of those pioneers of color and light. "I am experimenting with some of the looser brush strokes and uses of color, and finding it very exciting. I use a combination of techniques in some of my portraits." Some favorite Impressionists are Renoir, Monet, Degas, and Cassatt.

In 2004, Jean-Marie traveled to Paris for what would be a life-changing experience. "I was thrilled to have this incredible opportunity. Just walking down the streets, hearing the lyrical beauty of the French language all around me, was magical. Even the air seemed to be infused with special creative energy and excitement. Sipping coffee at a café, visiting the glorious museums I'd only seen in books, and standing on the bridge of Monet 's Garden made me almost delirious with happiness. It was a profound and poignant moment for me to walk into Le Louvre and see the original self-portrait of Eugene Delacroix I'd copied in my youth. It seemed to be smiling down at me as if to say, 'Welcome to Paris . I've been waiting for you.'"

http://www.jeanmarieportraits.com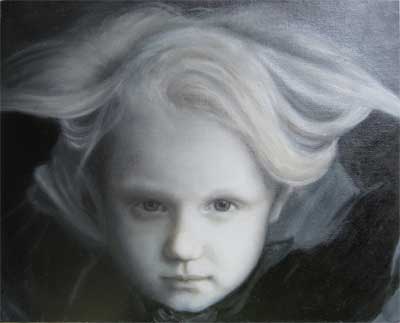 Lilia
Oil Canvas
8"x10"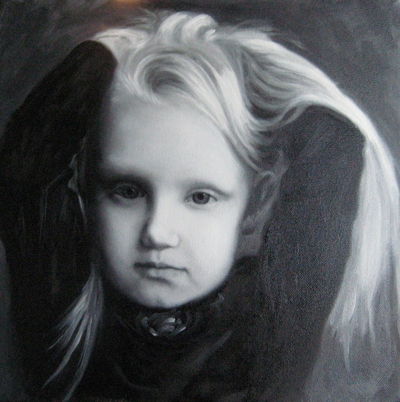 Chloe
Oil Canvas
12"x12"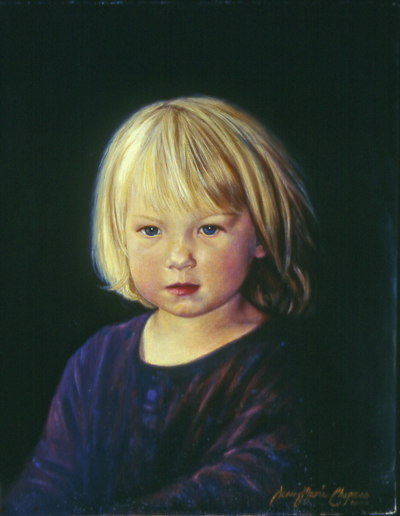 Chloe
Oil Canvas
14"x18"


http://www.jeanmarieportraits.com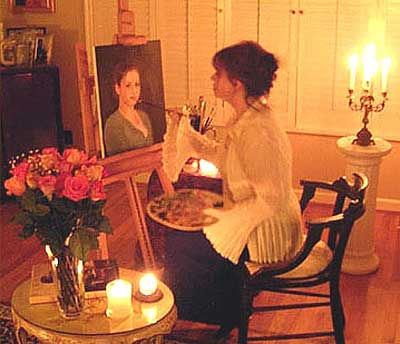 Painting by Candlelight

I have been a lover of all things Vermeer since, as a child, I grew up surrounded by my mother's cherished reproductions of his works. When a friend sent me the novel, "The Girl with the Pearl Earring," I devoured every word and eagerly awaited the film of the same name. Meanwhile, I'd taken a commission to paint a head and shoulders portrait of a young girl, around 13 years of age.

Something about this girl instantly reminded me of Vermeer's famous portrait. Then, one night, upon first listening to the haunting music from the film, I felt inspired to paint. The beautiful music transported my thoughts and imagination to a long ago time in Delft, and I visualized how Vermeer might have painted had he been compelled to do so late in the evening. I began to arrange candles around my painting to create a glowing atmosphere to accompany the music. I then dressed in the only garments I owned that felt appropriate for the scene I was creating.

While listening to this magical music, and with my book on Vermeer open on the table beside me, I painted, as if in a bubble of bliss, for several hours. If willing it could make it so, then Master Vermeer was with me that night, watching me paint by candlelight.